Food subscription boxes like Blue Apron, HelloFresh and Plated are the newest fad among everyone from young professionals looking to learn to cook and long time parents looking for new meals to feed their families. These boxes promise to send you all the ingredients you need to make delicious, healthy meals. But are they really worth the money?
A Look at Meal Subscription Boxes
When you subscribe to a meal delivery service, you are agreeing to a schedule of ingredient deliveries right to your door step. Depending on the amount of food you would like to receive each month and the company you subscribe to, you could be paying a few dollars to a few hundred dollars every month.
Within these boxes, you're getting everything you need to complete the meal, aside from a few items, like salt and pepper, that they expect you to have in your kitchen. That means that your meats, pastas, vegetables, and any other necessary ingredients for cooking will come right to your door in a cooler-style package.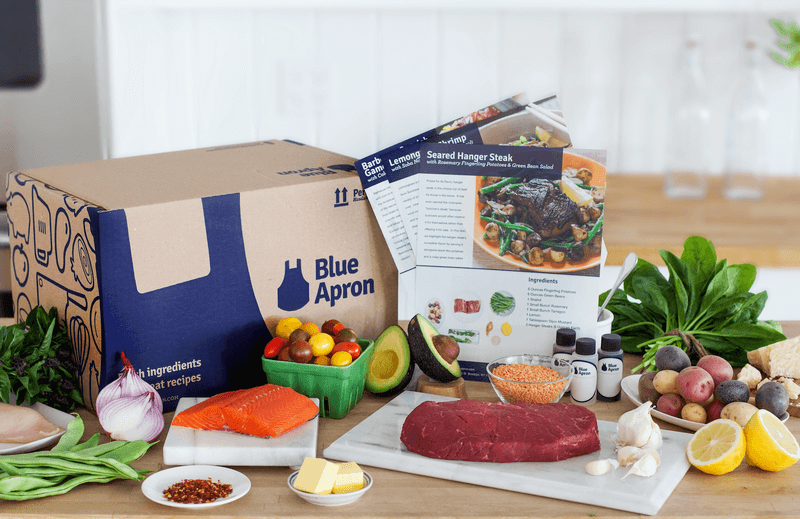 These boxes also come with step-by-step instructions on how to prepare the meals. Even if you've never cooked a day in your life, your meal subscription box can guide you through the process of putting together a delicious meal that could impress anyone.
The Benefits of Meal Subscription Boxes
The biggest benefit of a meal subscription box is convenience. When everything is delivered right to your door, the stress and thought of preparing and planning your meals is taken off your shoulders. You don't need to go to the grocery store, plan what you're going to have for dinner, or worry about if you have the skills to actually prepare it.
A meal subscription box also includes each and every ingredient that you may need to complete your meal. For anyone who has gone grocery shopping only to return and find they forgot a major ingredient, not needing to worry about a grocery list can remove a lot of stress.
Finally, a meal subscription box introduces you to new recipes and ingredients you may not have tried otherwise. While many of the recipes are taken right out of popular cookbooks or from food blogs, you don't need to worry about spending  hours browsing Pinterest and picking out the recipes yourself.
The Price You Pay for Convenience
Although meal subscription boxes can be extremely beneficial for the busy person trying to minimize the take out they eat, it definitely comes at a price. Even though the meals are cooked at home, the price per meal can be compared to a meal dining out.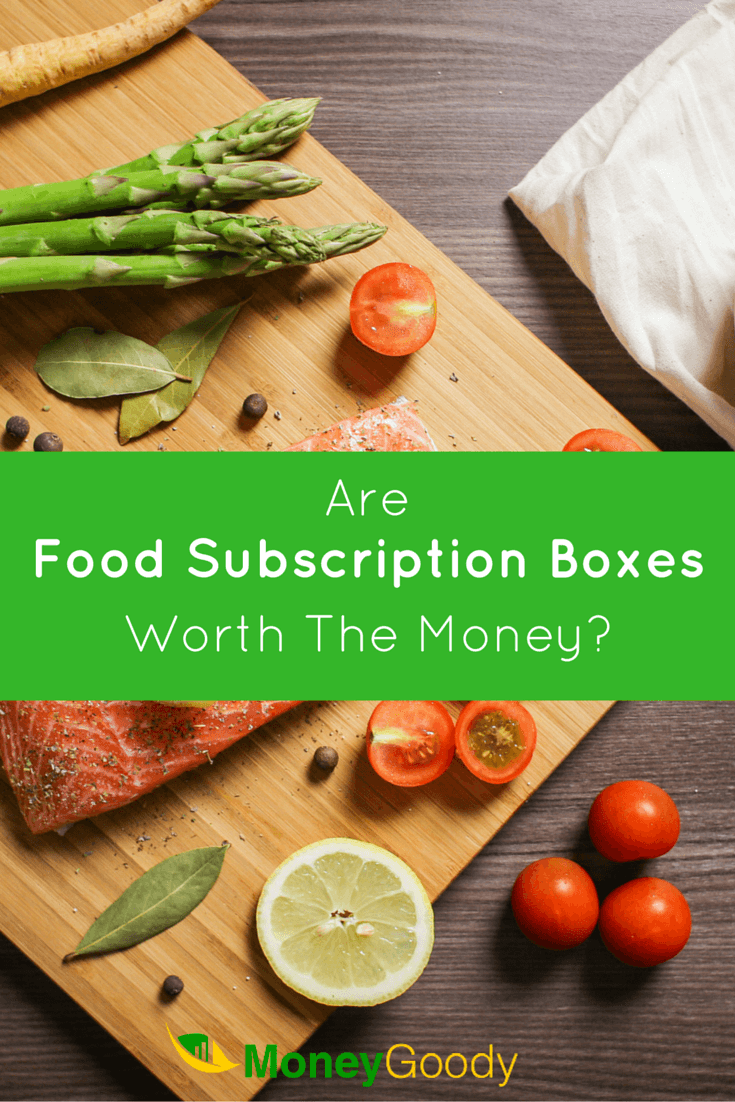 Most meal subscription boxes cost about $10 per person per meal. That means if you planned to use your meal subscription box to make just dinner every day of the month, you would be spending around $300 a month just for one person to eat one meal a day. On top of that $300, you would still need to go to the grocery store and purchase items for breakfast, lunch, and snacks or eat out for those meals.
If you have any dietary restrictions or you would like healthier options, the price per person per meal can quickly go up. With meal subscription boxes that act like personal nutritionists, you could be expected to pay upwards of $30 per person per meal, coming in at a grand total of $900 a month just to use your meal subscription service every day.
While most people who have given in to the meal subscription box trend do not rely on it for their only source of groceries, it begs the question, is it worth it?
Is a Food Subscription Box Worth It?
Sure, there are some people that will say a meal subscription box is totally worth the money. The food is delivered right to your door, you get to try new things and make impressive meals without any additional stress on your part. But if you really break down what you're paying for, are you getting a good deal?
Your meal subscription service isn't sending you any secret ingredients you can't pick up at the grocery store. They aren't supplying rare recipes that you can only find through ordering from them. As we've addressed, you're paying for the convenience when you use a meal subscription service.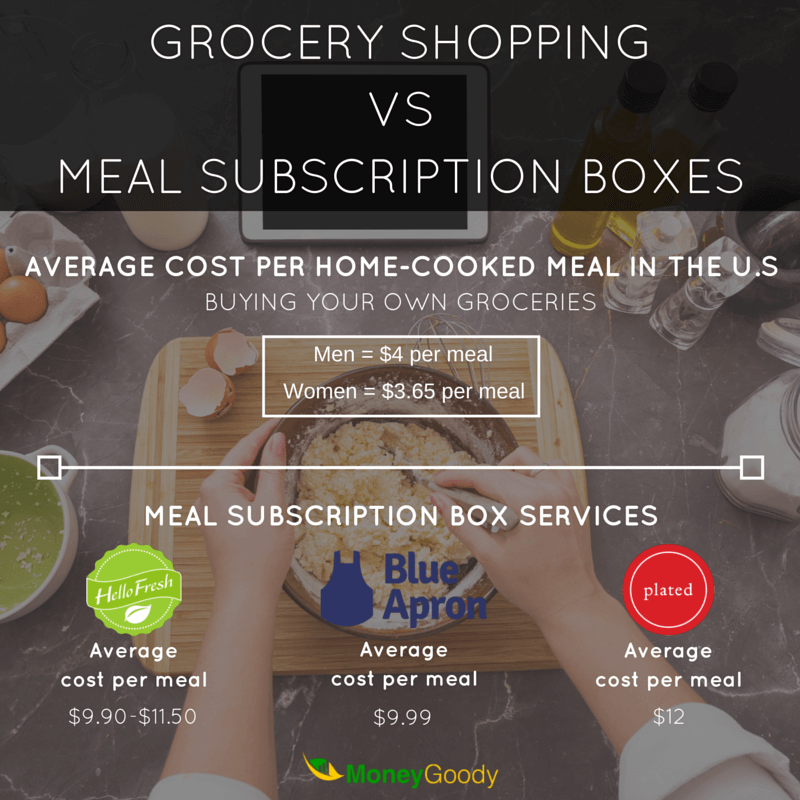 At a $10 per person per meal minimum, you're paying a relatively high premium to have your food delivered right to your door. According to the United States Department of Agriculture, a male between the ages of 19 and 50 will spend between $43.60 a week and $86.80 a week on groceries while a female in the same age range will spend between $38.40 and $76.60. These amounts include all meals and snacks for the seven-day period.
Even on the most expensive level, seven days of breakfast, lunch, and dinner would cost a male a little over $4 per meal and a female about $3.65. With at least $6 of savings per meal when you do your own grocery shopping, you're giving yourself a lot of extra cash for the month.
When you go grocery shopping, you have the additional benefit of leftovers and extra ingredients. In many meal subscription boxes, they send you only enough of that ingredient to complete the meal. You won't have left overs to add to another meal later. With your meal subscription box, you're essentially paying full price for an ingredient that you're only going to use a portion of.
While a meal subscription box can definitely ease some stress during busy times or introduce you to your next favorite meal, you'll save a lot of money when you do your own grocery shopping.
If you still want to try a meal subscription box, opt for the lowest plan you can, save your recipe cards, and go out and buy your own ingredients the next time you're ready to make that dish.
Have you bought into the meal subscription box movement? Leave a comment and let us know whether or not you think they're worth the money!